Teaching Learning Process
Management Education at KCES IMR is more about transforming the student than mere classroom learning. The institute predominantly caters to the needs of prospective students from the surrounding rural areas of Khandesh region. It is our observation over a period of years that the immense potential these young minds possess need to be channelized properly in order to assure them a living of their choice and dreams. Our Vision is a reflection of this motive.
Imparting quality professional education, providing a conducive environment to develop skills and knowledge, ignite a passion and a natural flair for Research and Innovation, while inculcating ethics and human values forms the core of our mission statement.
Our core values practiced at the institute include Excellence, Technology Integrated Education, Providing an excellent research environment, Social responsibility, Diversity & equal opportunity.
Today our Institute boasts of an overwhelming Alumni base, who have excelled in their lives, and hold commendable positions across various states, as well as in countries like the USA, UK, & Middle East to name a few. This very fact encourages us to proclaim our capabilities to uplift students of this semi-urban & rural background towards global environment and employability.
Learning Process at KCES IMR revolves around the core values of the Institute focussing on
Uplifting Rural students towards Global Employability (URGE)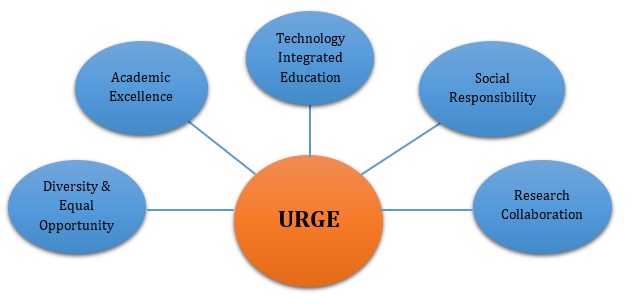 Academic Excellence:
Committed to maintain academics excellence through quality education, extra-curricular activities, interpersonal development and superior administration.
Technology Integrated Education :
To face the modern day corporate challenges, committed to enhance the technical skills and knowledge by integrating effective laboratory, advanced classrooms and quality technical education.
Research Collaboration:
Providing an excellent research environment, through advanced research cell integrating with National & International research institutes.
Social Responsibility:
Enriching & nourishing values and ethics amongst students to become responsible citizens for the development of society and country.
Diversity & equal opportunity:
Keeping diversified atmosphere to provide an equal opportunity to all by believing in moral thoughts, humanity and open minded ideology. The girls and boys are given equal opportunities in Participation at national B Plan Competitions and Industrial tours.